by Matthew Cobb
Jerry's at the dentist, and has left me with the keys to the car… I was supposed to be blogging (ha!) [JAC: writing on this site] about clouds or flies, but instead it will be about something much more prosaic.
At this time of year, everyone rightly moans about how the future we were supposed to have (jet packs, flying cars etc) looks so much better than the one we actually have (hand-held devices that can put you in contact with virtually anyone in the world, and with the whole of humanity's knowledge…).
One thing we rarely moan about though are the toilet facilities. Toilets (as we call them in the UK, sorry for shocking US readers with my vulgarity) are an essential part of civilisation, and a key force for public health, as long as you wash your hands afterwards and there are decent sewage treatment facilities. But what about the guys and gals in space? Right now, whizzing above your head and round the earth, is a zero gravity crapper in the International Space Station. So does it measure up to what the future should be like?
Those of you who have seen Stanley Kubrick's magnificent 2001: A Space Odyssey (and if you haven't, get it on DVD now! I've seen it about 15 times) may recall that Dr Haywood Floyd (played by William Sylvester) first goes to the Earth-orbit space station on an "Orion" shuttle, run by Pan-Am (another bit of futurology he got wrong):
He then flies on to the Moon, via a shuttle. During the flight we get Kubrick's vision of what we should have got 12 years ago, including velcro slippers keeping the hostess grounded in zero G:
But during the flight, Floyd has to do what a man has to do, and in a scene that in cinemas used to regularly get a good laugh, he ponders the instructions for the swish Zero Gravity Toilet (I couldn't find a clip of this, so we'll have to make do with a still):
Here's a close-up:
So, that was the zero g toilet we were promised. What is reality like?
Commander Chris Hadfield, a Canadian who is the current ISS Commander, just tweeted this picture of the facilities on board the ISS. He said: "Space Station Toilet – it uses airflow, and solids/liquids are done separately. Note the ironic reading material." (Hadfield's Twitter bio has "Mission specialist on STS-74 and STS-100. Currently living in space aboard ISS as Flight Engineer on Expedition 34, to be Commander of Expedition 35" And his location is "Orbiting Earth on ISS", which is probably the ultimate in Twitter cool).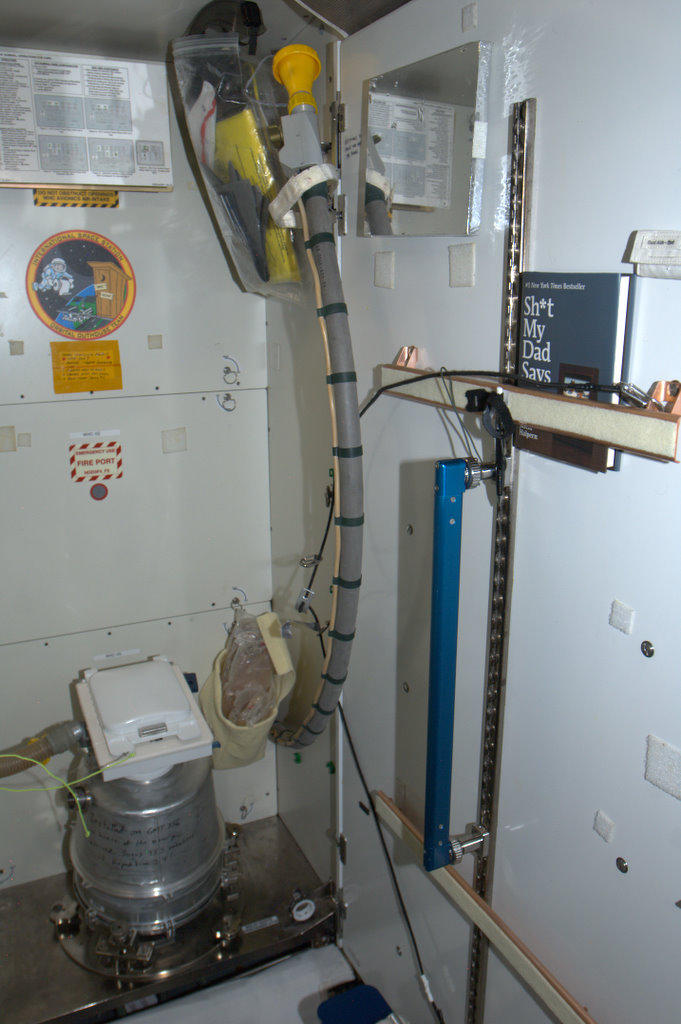 So, WEIT readers – is the future crap?
h/t @Cmdr_Hadfield on Twitter