by Matthew Cobb
The class Insecta contains many weird animals, although the weirdness lays mainly in the eye of the human beholder. Readers from the Americas who spent their childhood messing about by rivers will probably be no stranger to the dobsonfly, but to us effete types from elsewhere in the world, it is a bizarre beast:
(I don't know where this image originally came from, and a Google image search didn't help.)
Dobsonflies are not flies (order Diptera) – according to timetree.org they separated about 300 million years ago, not very long (in geological terms) after those crazy crustaceans came out of the sea and turned into what we now call insects. Dobsonflies are members of the order Megaloptera. This group used to be part of the Neuroptera along with lacewings, owlflies and antlions, but the order has now been split into the Megaloptera (dobsonflies, fishflies and alderflies) and the Neuropterida (lacewings etc). There are about 220 species of dobsonfly and about 300 species of megalopteran.
The larvae – known in the US hellgrammites and often used as bait by anglers – live in freshwater and take several years to develop. The dramatic and scary-looking adults emerge, mate and then die. Here's some pictures of dobsonfly courtship and mating (quite SFW). They won't hurt you, no matter how intimidating those mandibles look.
(Note the three occeli on the top of the head, just behind the roots of the antennae – these simple eyes are used for navigation (they detect polarised light) and also for rapid detection of movement overhead, and are shared by most flying insects – they are one feature that distinguishes queen ants (which have to fly) from their sisters, which do not.)
The dobsonfly in the picture above is an adult male; there is a sexual dimorphism, which strongly suggests either the males use those mandibles to tussle with each other for access to mates (like the mandibles of a stag beetle) or the females directly choose males with bigger/stronger mandibles. The antennae are also dimorphic, suggesting the males may track female pheromones:
Male (left) and female eastern dobsonfly Corydalus cornutus (photo by Lyle J Buss, University of Florida).
Here's a nice video of a male crawling all over someone's hand – the male tries to fly and you can see his two pairs of wings quite clearly:
The male also 'pees' on the man in the video – whether this is some kind of defence mechanism I'm not sure.
Females lay eggs on leaves above water, as a white mass. Females will often lay eggs on adjacent leaves, suggesting their may be some kind of oviposition pheromones. The larvae hatch and then drop into the water where they are ferocious predators, growing up to 9 cm in length and living under stones: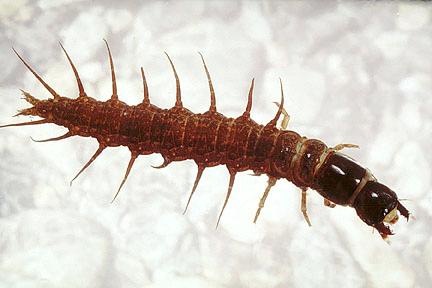 Hellgrammite from here. The name was even used as a supervillian in DC comics!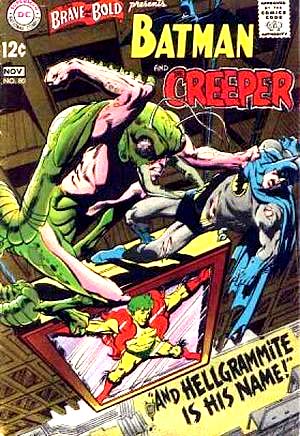 When the larva is ready to pupate (this can take five years), it migrates out of the water and its cuticle hardens to form a pupal case. The male's long antennae are bent back, as this dissection shows (photo by Atilano Contreras-Ramos):
The adults then mate, and the whole cycle begins again.
Like mayflies and many other river-dwelling insects, dobsonflies are very sensitive to pollution. If you have dobsonflies in your local stream, be pleased! It's a good sign.
One thing I haven't found out – why are they called dobsonflies?
To find out more:
http://www.tolweb.org/Corydalus
http://entnemdept.ufl.edu/creatures/misc/eastern_dobsonfly.htm