December 18, 2014 – 3:51 pm
December 18, 2014 – 12:49 pm
While the Cat's away, so to speak; this just in from Tw*tter:
Those of you having a WTH moment, enlightenment can be found here.
December 18, 2014 – 8:00 am
By Grania Spingies
At the beginning of the year Texas had a case of a woman being kept alive by a hospital for the sake of a fetus, even though it was against her own previously stated wishes as well as her husband's. Eventually the court ruled to allow the machines to be turned off. It was bad enough that someone lost their wife tragically. It was obscene that he had to go to court to be allowed to bury her.
Now Ireland is closing out the year with a similar case, which won't surprise anyone who has followed Ireland's bizarre slow shuffle towards modernity, at least where reproductive systems are concerned. A number of related cases have been discussed on this website such as the appalling horror of Savita Halappanavar being condemned to die when she started to miscarry rather than receive medical intervention that might hasten the end of the fetus, owing to the legacy of perverse law-making which hamstrings medical staff while trying to appease its Catholic past. Even the new supposedly improved abortion laws of the country have not had the intended effect, but instead have resulted in more inhumane horror which Jerry wrote about here and in The New Republic.
Today the Irish Independent writes of a new case where a woman who is clinically brain dead but in the early second trimester of pregnancy is being kept alive against the wishes of her family. The problem appears to have arisen because the hospital is unsure if it is legally permissible to switch off the life support machinery. The new law was supposed to clarify the position of medical staff, but as evidently it has not helped at all especially as serious penalties are now attached to anyone who assists in the termination of a fetus except in the most narrow of circumstances. And so a grieving family now waits for lawyers and doctors to decide whether they will be allowed to bury their loved one with privacy they deserve.
Surprisingly, the Minister for Health, who is himself on the pro-life rather than pro-choice side, but is also a medical doctor has shown some compassion and understanding:
"Difficult decisions that should be made by women and their doctors, a couple or the next-of-kin where there is no capacity, and on the basis of best clinical practice, are now made on foot of legal advice. That isn't how it should be."
December 18, 2014 – 6:30 am
No, it's not a new novel from Terry Pratchett.
If you're in the mood for discussion about religion, free will, morality, drugs, guilt, blame and vengeance, then you are in luck. Sam Harris joined philosopher Tamler Sommers and psychologist David Pizarro on their December 15th podcast.
It is a lengthy discussion, so download it and go for a walk with your headphones.
End Public Service Announcement.
December 18, 2014 – 4:29 am
by Matthew Cobb
Because it's that kind of day.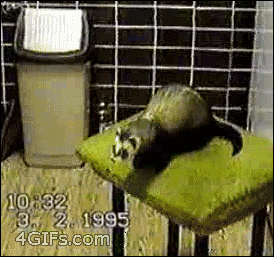 December 18, 2014 – 3:48 am
Good morning!
A weighty subject is the topic for discussion in Dobrzyń this morning, as Hili entertains a dangerous thought. I am a little curious as to what Andrzej's reply was. Let us hope it was diplomatic!
Hili: I have a serious question.
A: I'm listening.
Hili: If there is no god, then who am I?
In Polish:
Hili: Mam poważne pytanie.
Ja: Słucham?
Hili: Jeśli boga nie ma, to kim ja jestem?
December 17, 2014 – 1:03 pm
by Greg Mayer
Cat cafes– places where you can get a cup of coffee, some pastry, and hang out with some cats (not the kind Adam Duritz had in mind, but the real thing)– have been around in Taiwan and Japan for some time, but they're quite a new thing in North America. Jerry has been following and supporting the progress of one of the first, the Denver Cat Company, and it is now officially open. The owner, Sana Hamelin, has just sent word to us of some coverage they've received from Cafe Society, part of Denver Westword, a local news and culture website.
They've got coffee, books, art, and, of course, cats. The cats come from a local shelter, and are available for adoption. Far Eastern cat cafes are mostly an opportunity to interact with cats for people who like cats, but can't have them at home due to lease restrictions. In America, while customers can just enjoy the cats with their coffee, there's a definite emphasis on adoption, in order to find permanent homes for the cats. In addition to photos accompanying their article, Cafe Society has also posted a slideshow of the cafe.
An article in the New York Times highlights Cat Town Cafe & Adoption Center in Oakland, California, which was apparently the first cat cafe to open in the United States, although beating out Denver Cat Company and others by only a whisker. There's now a cat cafe– Meow Parlour– in New York, and others have just opened or are in the works in Naples (Fla.), Toronto, Montreal (the first in North America, having opened this past September), Portland (Ore.), San Diego, San Francisco, Los Angeles and Seattle. Unlike the Denver Cat Company, at the Cat Town Cafe the cats are kept in a separate room (different cities have varying regulations on what you can serve in a room where an animal is), and you pay a fee to visit the cat room (which is the more usual arrangement in Far Eastern cat cafes). They've already adopted out over 50 cats.
My local pet shop, Havahart Pets, in addition to its own cats, always has a few cats from the Humane Society living at the store, where they are showcased for adoption. That's where I met the Philosophickal Cat, Peyton, who after a few visits consented to come home with us. She had been so friendly to all the shop's customers, that on a couple of occasions people who came to our door for one reason or another, on seeing her come to the door, asked "Is that Peyton?", having first made her acquaintance at the pet shop. (She already had the name Peyton, and was known by it at the shop.)
So, support your local cat cafe, especially if you're in or near Denver; Sana tells us that one WEIT reader has already stopped by.
December 17, 2014 – 11:00 am
Our plane to Calcutta has been delayed by three hours due to fog (this is typical), so I'm able to write this post passing on some good news.
You may have forgotten the case of Emerson T. McMullen, the Georgia Southern University (GSU) history professor (actually, an associate professor) who proselytized both Christianity and creationism in his history/science classes. (For relevant posts, go here.) Such pushing of creationism and religion in a public university violates the Constitution's provisions for separation of Church and State. Or so we all thought.
The Freedom from Religion Foundation and the Richard Dawkins Foundation then sent a complaint to GSU (I drafted the scientific critique of McMullen's arguments for Biblical creationism), and the University said it would investigate. After doing so, the chief counsel for Georgia Southern sent the fellowing response yesterday to Andrew Seidel, an FFRF attorney pursuing the matter:
Dear Mr. Seidel,

This email is to follow up with you concerning the recent investigation prompted by a letter from your client, the Freedom From Religion Foundation, Inc., to Georgia Southern University. I am writing to inform you that the investigation has been completed and the University has taken steps to prevent any activity that is inappropriate for a public, state-funded institution. As a student-centered University and an EEO institution, the University places a high priority on the well-being of its diverse student body. We appreciate your assistance in calling this matter to our attention. Please share this information with your client and do not hesitate to let me know should you have questions or concerns.

Sincerely,

Maura Copeland
This is a masterpiece of noncomittal prose, and I was prepared for a long wait to see what, if anything, had been done. But then we got a copy of this letter from the GSU Dean giving the case's outcome. It is a memo from the Dean to McMullen himself, reproving him and demanding changes in the way he teaches: in particular, keeping his personal religious beliefs out of the classroom and not testing students on religious issues. McMullen has agreed, as you can see by the fact that he had to sign the letter. If he hadn't, huge legal problems would have ensued for GSU.
It is very favorable; a solid victory for secularism, in fact. As I predicted, McMullen can't proselytize for either religion or creationism any longer.  I will cite the "executive summary" prepared by the FFRF's Andrew Seidel (indented):
GSU "investigate[d]

whether problematic speech and/or conduct was, in fact, occurring in [his] classroom. This inquiry included review of ten (I 0) course syllabi, fifty-two (52) examinations, sixteen (16 )extra-credit opportunities, and thirty-seven (37) course evaluations, all dated between 2008 and 2014."
The course evaluations revealed a pattern of religious proselytizing, one noted by the students and criticized by some of them. A summary of the students' evaluations:
To GSU, these comments bespoke a pattern of religious coercion, even if unintended, and McMullen was told "it is inappropriate for you to interject your personal religious beliefs into classroom and class-related discussions with students, and you are accordingly directed to stop doing so immediately."
You can't get clearer than that. More from Seidel's summary:
This [investigation] revealed some interesting facts:

In each examination given between Fall 2012 and Fall 2014, there ·was an extra credit question asking students to identify one of the Ten Commandments.

In Spring 2014, [McMullen] assigned as optional extra credit the opportunity to see the movie entitled, "Is God Dead" and "write a two-page report on the movie, concentrating on the arguments given in class"
And McMullen was told to follow these guidelines from now on (quotes from GSUs memo):
"To that end, you are directed to avoid asking religion-based questions on examinations where such questions are not related to the curriculum of the course."
Re McMullen's requiring that his students see and report on the ludicrous atheist-bashing movie "God is dead":
"To that end, you are directed to cease any such interjection of your personal beliefs into classroom discussions."
I believe this also refers to creationism, which at any rate would fall under "religious beliefs," as specified by Federal courts in previous cases. McMullen's creationism, which is straight Biblical creationism, and which I refuted in my part of the complaint, is certainly a "religious belief," for it's sure not science!
"we are directing that you "not discuss your religious beliefs or opinions under the guise of University courses."
"Please review this memo closely and make certain to comply with the restrictions contained therein. Failure to do so will place the University at risk of violating the Establishment Clause and will result in undue pressure on the students in your courses to conform to your personal religious views."
The FFRF (and I, too) see this as a hands-down victory for the First Amendment, an amendment specifically cited by Georgia Southern. Kudos to the university for acting promptly and strongly.
The letter to McMullen is given below; as it's from screenshots of pdfs, please forgive the blurriness. It's only 2.5 pages long, and I urge you to read it in its entirety. This outcome will no doubt serve as a precedent of sorts about how public universities should deal with First Amendment violations by faculty. It is also heartening that GSU is located in the deep South, a hotbed of both religiosity and creationism.
I believe the yellowing in the letter came from the FFRF lawyers.
Nice, eh? I am proud to have worked with the Dawkins Foundation and the FFRF on this issue, though we'll no doubt be denounced as "censors." But passion in the defense of the First Amendment is no vice.
December 17, 2014 – 7:51 am
By Grania Spingies
Ayaan Hirsi Ali has written an op-ed for TIME in the aftermath of the tragic and brutal siege in Australia, very worth reading for yourself. Her focus is on the Shahada, now becoming a familiar sight on television news as the white writing on a black flag waved by extremists. She points out that in and of itself, the inscription is a simple declaration not particularly different in tone from many other religions' declarations such as the Catholic Creed.
"I bear witness that there is no god but Allah, and Muhammad is His messenger."
This is indeed the position that many Muslims espouse, and one that had been reiterated by many Muslim groups in Australia in the wake of this tragedy. However, she goes on to point out that it can also have a political message as well, depending on whether the interpretation favors a pre or post Medina version of Islam. The pre-Medina era saw peaceful proselytizing, post-Medina the tactic changed, and proselytizing was accompanied with real and threatened violence. Ayaan argues that the more politicized version, as reviled as it is by the majority of peaceful Muslims, needs to be marginalized, both in the pulpit and on the podium.
"To the extent that sincerely peace-loving Muslims wish to combat this trend, they need to do more than utter platitudes. They need to disown the likes of Man Haron Monis before they resort to violence, when they are preaching it."
As she points out, many countries in the "West", for want of a better term, have fostered and protected such speech and such speakers. However, side-lining any speech whether it be racism or extremism is a tricky affair if one is not to trample on the right to free speech and avoid doing collateral damage by vilifying and marginalizing an innocent group who already are targeted by xenophobes and reactionaries. It's a tactic that proponents of politicized Islam have certainly tried to use against Ayaan Hirsi Ali herself, as was recently seen in her invitations to speak publicly. She's probably right though, extremist preachers need to become unwelcome in otherwise peaceful communities. Those preaching death to anyone not sharing their ideology deserve no respect.
Read her full piece here: http://time.com/3634750/shahada-in-sydney-political-islam-ayaan-hirsi-ali/
December 17, 2014 – 4:04 am
Happy hump day! The end of the week is finally in sight.
In Poland today, Hili appears to be on a fishing expedition, and you have to admit she does look very sweet.
Hili: I am not a saint.
A: I've never suspected you to be one.
Hili: But you must admit that sometimes I look as if I were.
In Polish:
Hili: Nie jestem świętą.
Ja: Nigdy cię o to nie podejrzewałem.
Hili: Ale przyznaj, że czasem wyglądam jakbym taką była.